Prescription Azelaic Acid Topical Formulation for Men and Women
(Minoxidil-based formulation)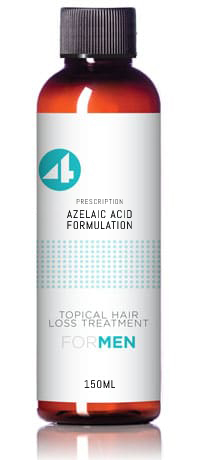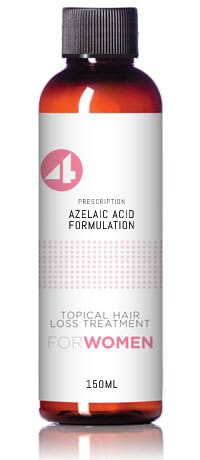 Azelaic Acid Topical Formulation is a prescription product that requires a consult with one of our licensed doctors.  It is made by Trinova Health and other compounding pharmacies throughout the country.  It is used twice daily, once in the morning and once in the evening, and it is applied directly to the scalp.  To apply I recommend putting some in the palm of your hand and then using a fingertip to apply the product to the scalp on the areas of the scalp you want to treat for hair loss.  There is a formulation for men and a formulation for women.
For any of the ingredients, you can do a Google search and find all kinds of information and studies. Below are some links that I have found. My knowledge of these ingredients come from years of research, trial-and-error on myself, and other products I have used. I recommend reading through this page and the 10 Important Questions to Ask When Selecting a Hair Loss Treatment page because you will learn about important things to consider when selecting a hair loss product and why this product contains the best of the best ingredients. When done, I hope you will feel the same way I do, that this product is one of the best topical products on the market to treat hair loss.
The right active ingredients are only part of the equation, the other part is having a pleasant user experience, which means how the product feels on your scalp.  This product is a gel.  The creators choose a gel over any other foam or liquid because it is colorless, odorless, and glides on easy (a little goes a long way), and it completely dries on the hair and scalp (not greasy).  Once the product dries on the scalp it leaves the hair slightly stiff, like a hair gel.  But it allows you to style your hair as normal and the gel makes your hair feel and look thicker.  Lastly, it washes out easily with water or shampoo.
The nice thing about this topical formulation is there are almost no side effects.  The only side effect I have seen with this treatment is scalp irritation and the percentage is very low.  Those that have sensitive skin or some type of skin condition on the scalp, like eczema, may not be able to use this topical treatment.  I consider myself to have somewhat of a sensitive scalp, due to the years of trying products and using products for my hair loss, and I have never had an issue with this treatment.
Most experts would agree that hair loss is caused by the buildup of DHT in the hair follicle, which if left untreated, causes the hair follicle to slowly die. There are two ways to treat hair loss. You can stimulate the hair follicle to grow hair and you can inhibit the production of DHT. This product does both.
This product contains some of the best and most potent ingredients to treat hair loss. The active ingredients are Azelaic Acid, Zinc Sulfate, Vitamin B6, Minoxidil, and Latanoprost.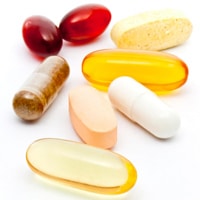 Azelaic Acid, Zinc Sulfate, and Vitamin B6
Azelaic Acid and Zinc Sulfate are known to be powerful inhibitors of DHT production. Vitamin B6 is vital for hair follicle health and promoting hair growth. However, as stated in a research article published in the British Journal of Dermatology, when Azelaic Acid, Zinc Sulfate, and Vitamin B6 are combined at the right concentrations there is a synergistic effect. This synergistic effect inhibits DHT production by 90%! There is nothing stronger, proven, not even Finasteride, which has been shown to inhibit DHT production by only 60 to 70% when applied topically. A lot has been written, and discussed, about these three ingredients as you will see if doing a Google Search. Below are two sources.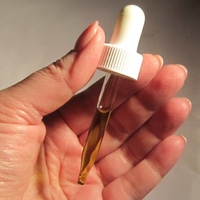 Minoxidil is the first and only topical solution to be FDA approved for the treatment of hair loss. It has been clinically proven to stimulate the hair follicle to produce hair on the vertex of the scalp, which is the back and top of your head. In its FDA clinical trials, the original makers of minoxidil proved that it has a high success rate of 85%, which in medicine is huge. Minoxidil is probably the most studied and most successful hair loss treatment in the world. Below are links to a few of them.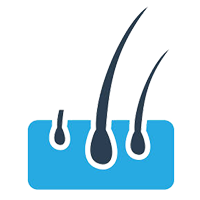 Latanoprost was originally developed to treat high pressure inside the eye due to glaucoma or other eye diseases like ocular hypertension.  However, astute scientists realized that this medicine has a hypertrichotic side effect, it grows hair.  I believe the mechanism on how it makes hair grow is similar to Minoxidil, which stimulates the hair follicle to grow hair.  It is an expensive ingredient to include in the formula but well worth it; it is one of the strongest hair growth stimulators available. Numerous creditable studies have been done and published in very reputable journals to show the positive effects of using this medicine for hair loss.  One study in the Journal of the American Academy of Dermatology was quoted as saying Latanoprost significantly increases hair density on the scalp.  Below are links to some of those studies.
My experience and opinion on this product: I have been using this product off and on for years. Each ingredient serves a specific purpose and it is a very powerful combination. I am not aware of anything that inhibits DHT better than the combo of Azelaic Acid, Zinc Sulfate, and Vitamin B6; and Minoxidil and Latanoprost are two of the strongest hair growth stimulators in the world. In addition, it is a pleasure to use, it isn't greasy, it doesn't smell, and it washes out easily.  In my years of research and the trying of different ingredients and different products to keep from losing my own hair, this product is one of my favorites and represents one of best products I have ever used or will ever use for hair loss.
This product is for Men & Women
The only difference between the formulation for men and the formulation for women is in relation to the strength of Minoxidil in the formulation. Minoxidil is FDA approved at 5% for men and 2% for women. Therefore, the men's formulation contains 5% Minoxidil and the women's formulation contains 2% Minoxidil.  The concentration levels for all of the other ingredients in this product are the same for men and women. Therefore, they both contain the same concentration levels of Azelaic Acid, Zinc Sulfate, Vitamin B6, and Latanoprost.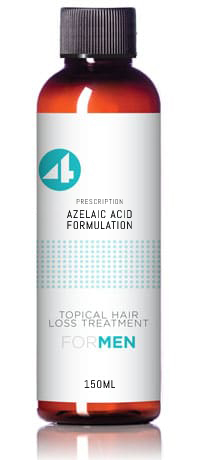 Men's Prescription Azelaic Acid Topical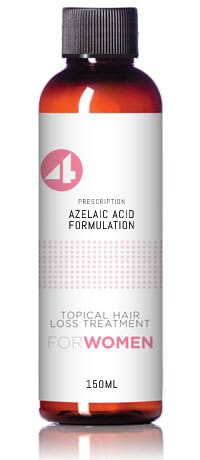 Women's Prescription Azelaic Acid Topical
Prescription/Ordering Info: We are currently licensed in the following states: Florida, Illinois, Massachusetts, Missouri, New Jersey, New York, and Pennsylvania. If you live in one of these states then click below to download and print the prescription order form and take it to your doctor so he/she can fill it out and submit to Trinova Health Pharmacy via fax or E-prescribe. Once we have the prescription we will contact you directly to confirm shipping and collect payment. Please print two copies of the prescription form, one for your prescription and one for the doctor to keep should he/she have other patients that could benefit from our treatments. Our goal is to be licensed in all states so please check back if your state is currently not listed.
Click the button above to download and print the Prescription Order Form