Your #1 source for hair loss information and clinically proven treatments

Kevis 8/More Hair Naturally introduce breakthrough More Hair Naturally 9
4hairloss.org was excited to be one of the first authorized distributors for More Hair Naturally 9. This product was researched and designed by More Hair Naturally. They are the U.S. manufacturer and distributor of Italian based Kevis 8, More Hair Naturally 8, and other related hair loss products.
The makers of this product make some bold claims on its success.  They say this product is so fundamentally more advanced than any other natural hair loss treatment on the market. Based on my research of the ingredients I think it is one of the best all natural treatments, similar to results and success I have seen with people that use Revivogen MD.  MHN 9 and Revivogen are both high quality products made by companies that hold their product to high standards.
The reason for the bold claims is the power of the four key ingredients. Each has been studied to some degree and offered in Europe and Asia as a viable hair loss remedy. Kevis and More Hair Naturally have taken these four ingredients that are successful treatments in Europe, in their own right, and have combined them at the same recommended strength as in European tests to create More Hair Naturally 9. Myself and others were super excited to test this product and monitor the results of others. 
The four key ingredients are Redensyl, Stem Cells, Capixyl, and Baicapil. Below is a quick definition of each, but we encourage you to also view each case study that is provided. You can also do a Google search on each of the four main ingredients.
Redensyl (Click here to see case study)
Stem cells are now a major focus in the medical field because of their amazing applications, but research on hair follicle stem cells is more recent. Redensyl is a major step in this research because this product activates the hair follicle stem cells and manages their function to induce the production of new hair. More research is underway and needs to be done, but research so far suggests that these hair follicle stem cells play a crucial role in stimulating the growth cycle and using Redensyl encourages it.
Stem Cells (Click here to see case study)
More Hair Naturally 9 is using adipose-derived stems cells, mountain ginseng, and bamboo sprout stem cells as a means to promote hair growth. These are considered to be the most potent and effective stem cells for thinning hair. Using different forms of stem cells is very limited in the U.S. due to laws and regulations, but in other countries stem cell research continues to grow and its uses for disease continues to amaze. Using stems cells for hair loss is just one of many uses. More attention to using stem cells for hair loss is being researched and small studies being performed. Initial conclusions show that stem cells may be a highly effective treatment for hair loss.
Capixyl (Click here to see case study)
Capixyl is a biomimetic peptide combined with a red clover extract. This product is a powerful nonprescription means of preventing the 5-a-reductase process of converting testosterone to DHT, which is the main cause of hair loss. Doing this prevents hair miniaturization and the hair anchor stays strong and no damage from inflammation. More studies need to be done but initial results show that it is a very strong inhibitor of DHT.
Baicapil (Click here to see case study)
Baicapil is a combination of three plant extracts that are known agents to fight hair loss. This innovative ingredient stimulates hair growth by effecting the growth phase a hair follicle cycles through. It actually decreases the shedding and resting phase and increases the growth phase. This effect increases the length and thickness of the hair itself and the density of hair on the scalp.
Other Info
This product can be used by men and women. In addition, the ingredients in this product have been shown to work on the entire scalp, including the hairline. Included with your purchase is 4hairloss.org's custom protocol and instructions based on my research of the ingredients and how to most effectively use and apply the product.
I am always interested in monitoring results of those that decide to try the product. I have a special interest in this product because it represents a potential next generation product for hair loss. It is definitely a new direction compared to what drug based medicine provides and the use of stem cells is a forward thinking mentality.
My experience and opinion on this product: I like this product and I love the company.  In creating this product, they did a ton of research in coming up with the combination of ingredients that this product offers.  The product also has a great consistency, it completely dries on the hair and scalp and even though it sometimes leaves a slight residue, you can remove it pretty easily.  In addition, $100 a month may seem like a lot of money, but for a product of this caliber, similar to the topical prescriptions I carry on this website, it isn't.  However, I do have a few comments to make about the product.  One, I tested/used the product very aggressively for 4 months and didn't get any results.  However I have numerous clients who use it regularly and have gotten great results and in my hair loss crusade I have come to realize no product works for everyone and that is why I always tell people if one doesn't work don't give up, try something else.  Two, I am investigating how effective the stem cells are when applied topically so I plan to research and test the application of stem cells topically.  I have been doing research and testing on stem cells and feel I am getting close to the right protocol for using stem cells and what stem cells to use.  My testing of stems cells has been injecting them with a needle directly to the scalp.  However, treatments that you apply directly to the scalp have been proven to work so logically I would think that applying stem cells directly to the scalp would work as well.  Overall I consider MHN 9 a great product to try.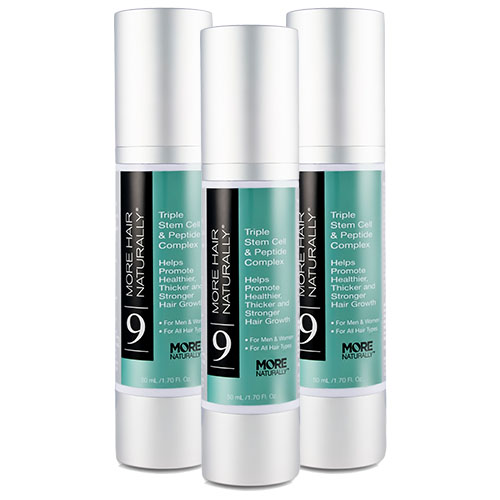 Price is for 3 bottles/90-day supply of More Hair Naturally 9.
Best Price Guarantee: Find the identical item for a lower price (from an authorized seller) within 30 days of your purchase and we will match the price. Just send us a copy of the ad and we will refund you the difference.