Your #1 source for hair loss information and clinically proven treatments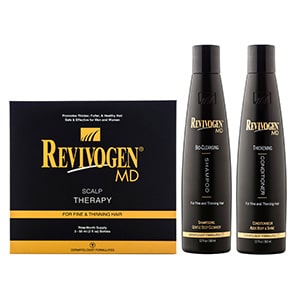 Revivogen MD is an all-natural treatment for hair loss. It has not gone through FDA clinical trials like Finasteride and Minoxidil, but Revivogen's ingredients have been scientifically proven in independent studies to lower DHT production and stimulate growth, which are the two ways to treat hair loss, which is what you want in a product.
Finasteride pills inhibit DHT production internally throughout the body.  DHT production is the mechanism in the body that causes the hair follicle to become dormant. A topical solution, such as Revivogen MD inhibits the DHT production directly to hair follicle.  Both do the same thing essentially; they just go about it in two different ways.
Board-certified dermatologist Alex Khadavi, M.D. selected Revivogen MD's active ingredients because they are natural compounds that have been proven to inhibit 5-alpha reductase (the enzyme necessary for DHT production). Revivogen MD's ingredients include gamma linolenic acid (GLA), alpha linolenic acid (ALA), linoleic acid, oleic acid, azaleic acid, vitamin B6, zinc, saw palmetto extract, beta-sitosterol and procyanidin oligomers. Click here to learn more about the ingredients in Revivogen MD.
After evaluating the studies Revivogen MD has performed (evaluating its success rate) and the study it did to prove that topical Revivogen MD inhibits DHT production greater than topical Finasteride, it is this website's opinion that this is a great product. It is worth a try for those that like an all-natural no-side effect alternative. This is a product that can be used by men and women and has been shown to work on the entire scalp, including the hairline.
My experience and opinion on this product: I consider this product to be a very strong hair loss treatment, one of the best.  This product contains ingredients that inhibits the production of DHT and stimulates hair growth, which is what you want in a product.  In addition, it is priced well compared to other hair loss products of this caliber.  My only issue with this product is it leaves your hair and scalp greasy and it is strong smelling; I only tested this product for a few weeks because of the consistency, it uses an oily base.  You can use the product at night but you will need to wash it out every morning.  I had a hard time washing it out every morning, but mainly I just don't like showering in the morning, so it didn't fit my lifestyle.  Also, not everyone likes to wash their hair every day, especially women, but with Revivogen you will want to.  If you don't mind the consistency and having to wash your hair every morning then this is a very good product to try.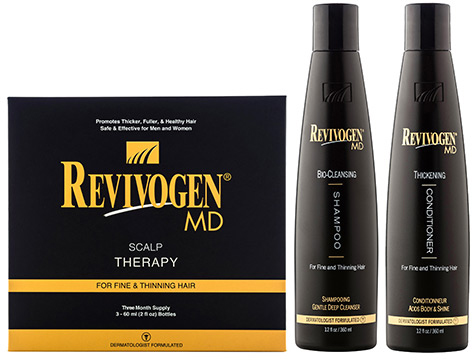 Price includes a 90 day supply of Revivogen MD Scalp Therapy, 1 bottle of Bio Cleansing Shampoo, and 1 bottle of Thickening Conditioner.
Best Price Guarantee: Find the identical item for a lower price (from an authorized seller) within 30 days of your purchase and we will match the price. Just send us a copy of the ad and we will refund you the difference.